MYRCA 2013 WINNER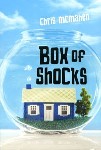 Box of Shocks by Chris McMahen
Orca, 2011, 9781554699179
Interest Level: Grades 5 and Up
Keeping secrets from his parents is something that Oliver is used to. If his overprotective "helicopter" parents knew about his crazy encounters with zombies, vicious dogs or jumping off a bridge, they would have a fit. Oliver keeps all of the souvenirs from his adventures in his box of shocks. When a new neighbour boy moves in across the street and into Oliver's old house, Oliver may meet someone hiding an even bigger secret than his.                                                                                                                        
MYRCA 2013 HONOUR BOOKS                          
Peter Nimble and His Fantastic Eyes by Jonathan Auxier 
Penguin, 2011, 9780143175933
Interest level: Grades 5 and Up
Blind, orphaned, and only 10-years-old, Peter Nimble must steal to survive. His future looks bleak when he is tricked into servitude by a cruel taskmaster. That is, until he finds himself drawn to a mysterious box.  Using his considerable talents, Peter manages to steal and unlock the box, revealing 3 pairs of magical eyes. With the help of a brave but unusual knight, Peter and his fantastic eyes set off on a quest to find his destiny.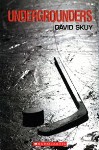 Undergrounders by David Skuy
Scholastic, 2011, 9781443107280
Interest Level: Grades 5 and Up
Life on the streets is rough for 12-year-old Jonathan. Hawking and stealing have become his means of survival and a group of misfits called Undergrounders his only family. But when a chance occurrence allows him to steal some hockey equipment, a new world opens up to him. Soon things begin to unravel as he tries desperately to keep his secret. Will Jonathan find the courage to ask for the help he needs and possibly find a new home?