Monday, April 14, 2014
Voting is officially closed, thank you to all voters! We are very busy counting all those ballots…
Please continue to check back for news about the winner. We will post A.S.A.P. Promise!
In the meantime, click on the book covers of the current nominees to view the comments. You may be surprised at some of the entries! We are still accepting comments…tell us what you think! Who do you think will win?
Don't forget to like us on facebook and follow us on Twitter @MyrcAward.ca
Good luck to all the authors!
April 9th, 2014
Today is the last day to vote for the 2014 winner. Please return your completed vote summary by midnight tonight!
Thanks!
Find the voting booth in the Children's Section
in McNally Robinson Booksellers on Grant!
Acadia Jr. High – Artwork
Just look at what our friends at Acadia Jr. High have been up to…creating a butterfly including all but a few nominees since 1992! Amazing work!
March 17th, 2014
Time to start voting! If you have read 5 from the 2013 list of nominees and are a student living in Manitoba, between grades 5-8, it is time! You can vote through your school library, in any branch of the Winnipeg Public Library or (new this year) at McNally Robinson's on Grant. You have until April 9th (midnight) to vote!
Be sure to check out of the reader's comments of your favorites; you can see them by clicking on the book cover.
Tell us who is your favorite on Twitter using @MyrcAward.
Happy Reading and Good Luck to all the authors!
February  I Love to Read Month News
Only 2 months left before the big Vote! The voting period this year will begin March 17th and will run until April 9th, 2014. Check under the Voting Tab for the latest instructions. All students in grades 5-8 may vote as long as they are residents of Manitoba and have read, or heard read 5 titles from the 2014 Nominated List.
Happy reading!
December News
Thank you readers! Your comments have been pouring in lately. To view them: visit the 2014 Nominnees page and click on the book cover, it will open a new page where you may add your thoughts.
November News 2013
M.Y.R.C.A. is pleased to announce that we are now on Facebook. Please like our page!
https://www.facebook.com/pages/Myrca-Award/752490274766657?ref=hl
October News
Congratulations to the following schools who received copies of the MYRCA list due to the generous support of the Winnipeg Jets True North Foundation Grant.  We are happy to welcome these schools as new MYRCA voting schools for 2014!
Norquay
Elm Creek
Mackenzie Middle School
Ecole Lacerte
Lt Col Barker
Isaac Beaulieu
September 2013
Enjoy the phenomenal 2014 MYRCA booktrailers, created by the talented students of Linden Meadows School for the 2013 Award Ceremony. Wonderful job!
September 27,2013
The Myrca committee is very proud to have hosted a wonderful Award Ceremony and would like to congratulate Chris McMahen, winner of the 2013 Myrca Award.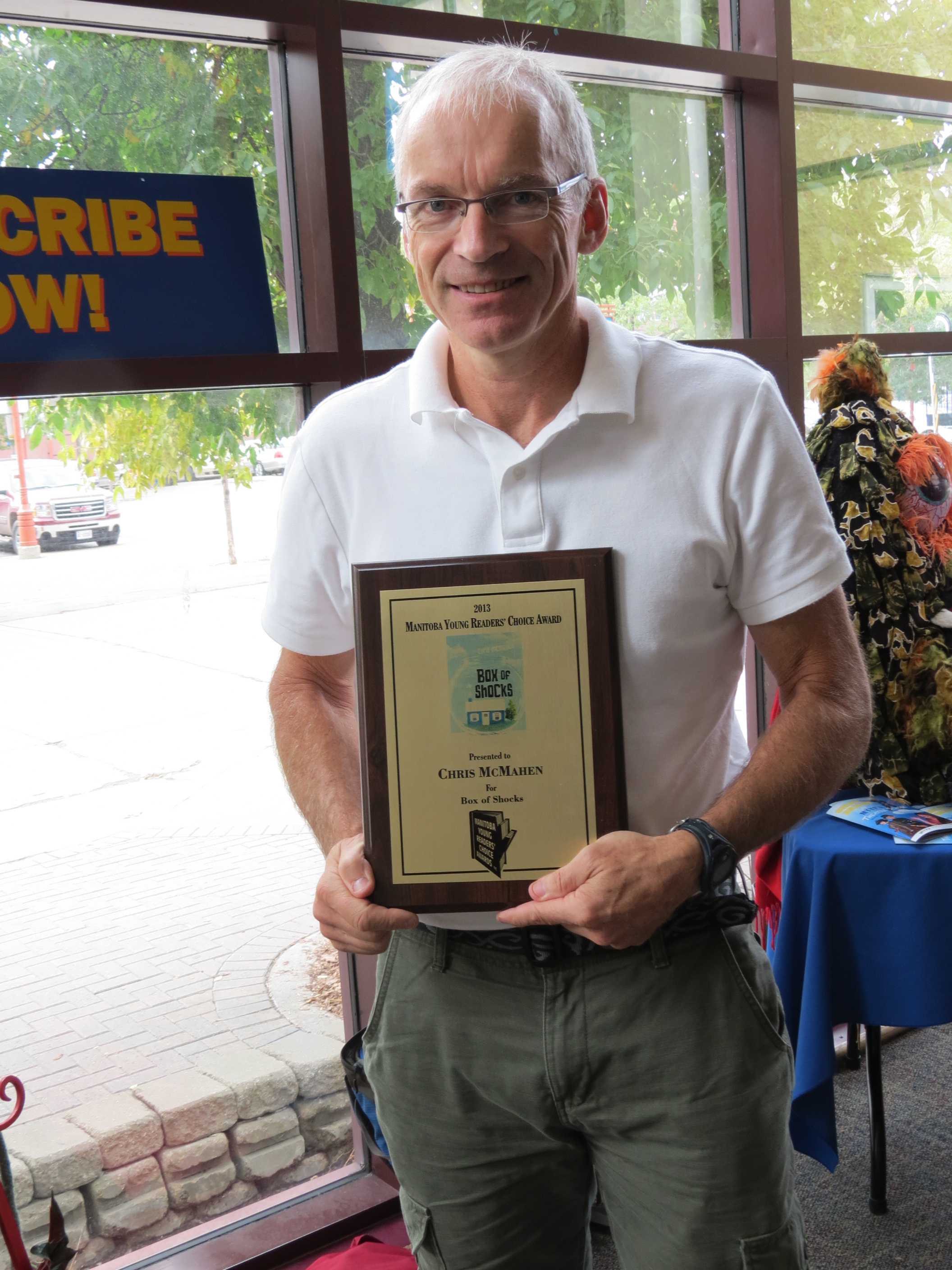 Visit Chris McMahen's blog to see his thank you message to Winnipeg:
http://blog.chrismcmahen.com/post/62448406607/thank-you-winnipeg
September 2013
Teachers…watch your in-boxes for this blue MYRCA flyer…see if you qualify to win Myrca List Books for your school!
Friday, June 21, 2013
Why not make reading Myrca titles a part of your summer road trip?
http://winnipegpublibrary.wordpress.com/2013/05/17/tween-road-trip-survival-guide/
Wednesday, May 1, 2013
List of 2014 MYRCA nominees is now available.
MYRCA press release April 2013
Tuesday, April 24, 2013
2013 WINNERS ANNOUNCED!
Box of Shocks by Chris McMahen wins the 2013 MYRCA,  2013 Honour Book awards go to Peter Nimble and His Fantastic Eyes by Jonathan Auxier and Undergrounders by David Skuy.
Wednesday, April 10, 2013
Voting for the 2013 MYRCA winner closes today April 10, 2013.  Make sure your vote counts by submitting it no later than midnight tonight. Check out the Voting tab for everything you need to participate in the 2013 vote.
Sunday, February 24, 2013
Congratulations to the following schools who received copies of the MYRCA list due to the generous support of the Winnipeg Jets True North Foundation Grant.  We are happy to welcome these schools as new MYRCA voting schools for 2013!
Brant Argyle              Ecole Saint-Malo            Joe A. Ross School        New Era     Oscar Lathlin     Ralph Brown     Roblin Elementary     Wellington School     Westgrove     Weston     West St. Paul School
October 18, 2012   Now available on YouTube – a video presentation of trailers of the MYRCA 2013 nominees created by students from Acadia Junior High for the MYRCA 2012 award ceremony on September 28, 2012.   Friday, September 28, 2012 MYRCA 2012 Award ceremony – MYRCA teams up with the Thin Air Winnipeg International Writers' Festival at MTYP to celebrate Susin Nielsen and her MYRCA 2012 winning novel Dear George Clooney Please Marry My Mom. Attendance at the award ceremony is by invitation only and is limited to Manitoba young readers who participated in the current year's vote.  Thin Air is featuring Susin Nielsen in its school programs.
Tuesday, September 25, 2012 The Winnipeg Children's Literature Roundtable invites you to attend its annual MYRCA dinner with guest speaker author Susin Nielsen. Please see attached flyer. Everyone is welcome to attend.
Monday, June 18, 2012 MYRCA is one of 44 local children's charities to receive a grant from the Winnipeg Jets True North Foundation  Stay tuned for project details and participants.
Tuesday, May 8, 2012 MYRCA announces it list of MYRCA 2013 nominees.