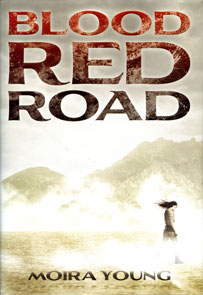 Blood Red Road by Moira Young
Random House, 2011, 9780385671859
Interest Level: Grades 7 and Up
18 year-old Saba lives in a bleak world at the edge of a deserted wasteland. After witnessing her father's death and the kidnapping of her twin brother, Lugh, Saba vows to find him and exact revenge on her family's enemies. Nero, her pet crow, is the only companion she wants, even though little sister Emmi insists on coming along.  What Saba doesn't know is that she is going to need all the help she can get on her terrifying journey.