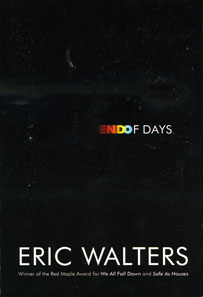 End of Days by Eric Walters
Random House, 2011, 9780385670067
Interest Level: Grades 7 and Up
How would people behave if all the systems that keep us civilized fell apart? Would some emerge as leaders? 16-year-old Billy is a leader. In normal times he might be school president. But these aren't normal times; the world's top scientists and mathematicians have disappeared, and Billy is recruited to lead in a very different way. As the world as we know it comes to an end, Billy gets caught up with two organizations with very different goals.