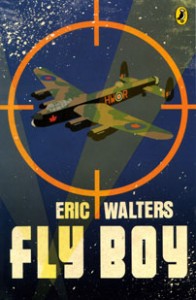 Fly Boy by Eric Walters
Penguin, 2011, 9780143176312
Interest Level: Grades 5 and Up
It is 1943 and 17-year-old Robbie McWilliams devises a plan to enlist early so he can serve his country as a Spitfire pilot, just like his Dad. Although he excels in his flight training, Robbie's plans are thwarted when the Royal Canadian Air Force decides to train him instead as a navigator. With the risk of being found out and the threat of being shot down over enemy territory, will Robbie ever get to fulfill his dream?