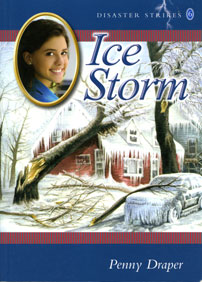 Ice Storm by Penny Draper
Coteau, 2011, 9781550504514
Interest level: Grades 5 and Up
12-year-old best friends Alice and Sophie may be cousins, but they are very different girls. Alice is an only child whose life revolves around her figure skating career in the city of Montreal. Sophie loves her dairy farm in the country – even though she has to put up with her weird brother. The 1998 ice storm that leaves Quebec shivering in darkness changes everything; are they strong enough and smart enough to survive?