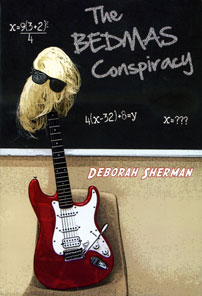 The Bedmas Conspiracy by Deborah Sherman
Fitzhenry & Whiteside, 2011, 9781554551811
Interest Level: Grades 5 and Up
11 year-old Adam should be focusing on his grades, but it's hard when you are trying to form the greatest band ever to compete in the school talent show. When an unfortunate incident with his archenemy, Eldrick, gets him accused of cheating, his parents give Adam an ultimatum – bring up his grades or no band. Will Adam be able to focus on school, deal with Eldrick, and win the contest?