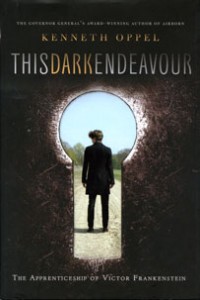 This Dark Endeavour by Kenneth Oppel
HarperCollins, 2011, 9781554683406
Interest level: Grades 7 and Up
16-year-old twins, Victor and Konrad Frankenstein, are fiercely competitive and equally as loyal. When Konrad falls ill it is up to Victor, their beautiful cousin Elizabeth, and loyal friend Henry to unlock the mysteries of the Dark Library and find the ingredients for the Elixir of Life. On their quest they face unbelievable dangers, but Victor finds that the most dangerous thing may be himself.