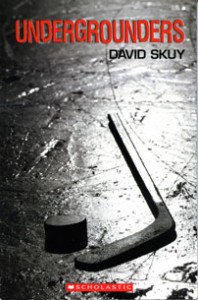 Undergrounders by David Skuy
Scholastic, 2011, 9781443107280
Interest Level: Grades 5 and Up
Life on the streets is rough for 12-year-old Jonathan. Hawking and stealing have become his means of survival and a group of misfits called Undergrounders his only family. But when a chance occurrence allows him to steal some hockey equipment, a new world opens up to him. Soon things begin to unravel as he tries desperately to keep his secret. Will Jonathan find the courage to ask for the help he needs and possibly find a new home?