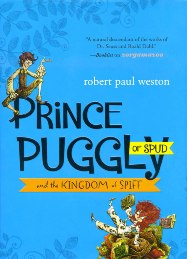 Prince Puggly of Spud and the Kingdom of Spiff by Robert Paul Weston
Puffin,  2013.  9780143173328
Interest Level: Grades 5 and Up
Princess Francesca likes to settle in nooks
in her pajamas, to read all her books.
But the Kingdom of Spiff will not let it slide,
there are rules of fashion by which to abide.
Then she meets Puggly, the crown Prince of Spud
who wears paisleys with plaids: he is clearly a dud.
This story's moral, as you may have guessed…
there's more to a person than how they are dressed.