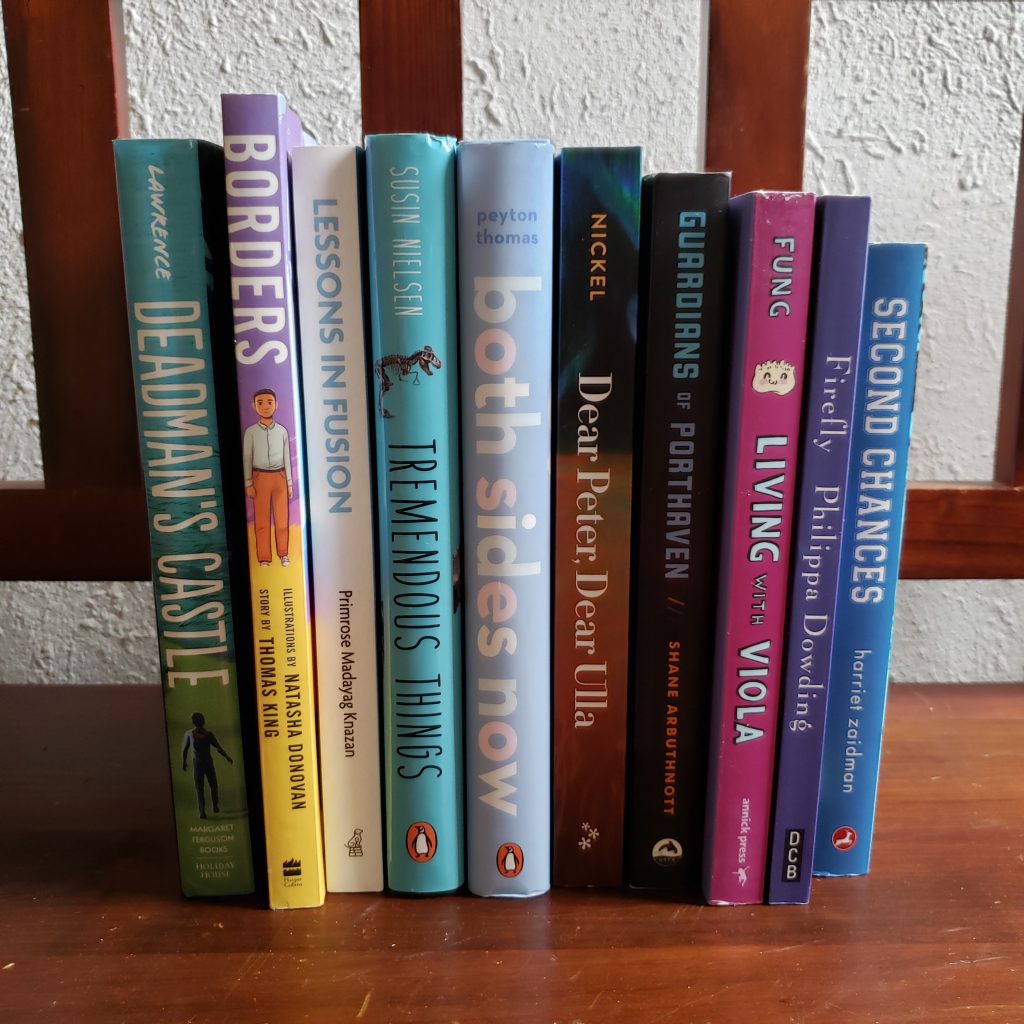 Borders by Thomas King and Natasha Donovan.
HarperCollins, 2021. 978-1443460675
On a trip to visit his older sister, who has moved away from the family home on the reserve to Salt Lake City, a young boy and his mother are posed a simple question with a not-so-simple answer. Are you Canadian, the border guards ask, or American?
"Blackfoot."
And when border guards will not accept their citizenship, mother and son wind up trapped in an all-too-real limbo between nations that do not recognize who they are.
Both Sides Now by Peyton Thomas.
Penguin Teen, 2021. 978-0735269750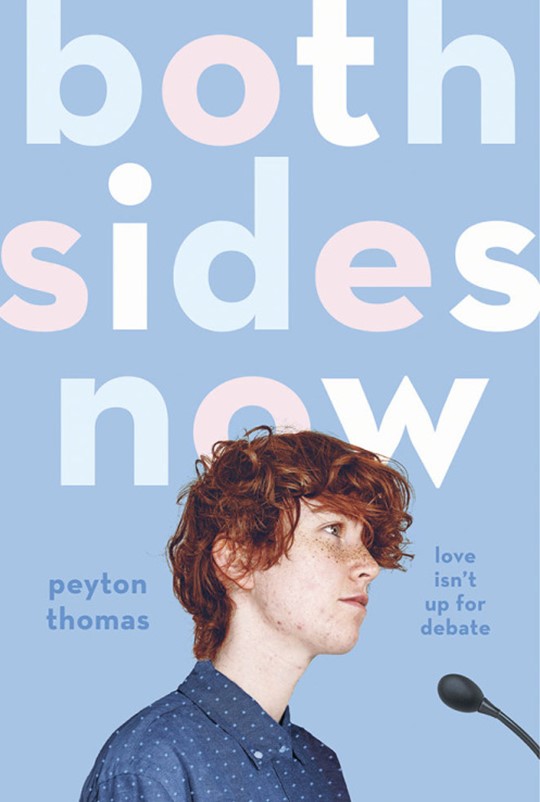 There's only one thing standing between Finch Kelly and a full-blown case of high school senioritis: the National Speech & Debate Tournament. Taking home the gold would not only be the pinnacle of Finch's debating career, but the perfect way to launch himself into his next chapter: college in Washington, DC, and a history-making career as the first trans congressman. What could possibly go wrong?
Deadman's Castle by Iain Lawrence.
Margaret Ferguson Books, 2021. 978-0823446551
When Igor was five, his father witnessed a terrible crime–and ever since, his whole family has been hunted by a foreboding figure bent on revenge, known only as the Lizard Man. They've lived in so many places, with so many identities, that Igor can't even remember his real name.
But now he's twelve years old, and he longs for a normal life. He wants to go to school. Make friends. Stop worrying about how long it will be before his father hears someone prowling around their new house and uproots everything yet again. He's even starting to wonder–what if the Lizard Man only exists in his father's frightened mind?
Slowly, Igor starts bending the rules he's lived by all his life–making friends for the first time, testing the boundaries of where he's allowed to go in town. But soon, he begins noticing strange things around them–is it in his imagination? Or could the Lizard Man be real after all?
Dear Peter, Dear Ulla by Barbara Nickel.
Thistledown Press, 2021. 978-1771872171
Letters fly back and forth between Peter and Ulla, and although Ulla lives in Danzig, Germany, and Peter on a Mennonite farm in Saskatchewan, their lives become inextricably entwined through an intense, empathetic connection that plays out in the first months of World War Two. Peter is a talented pianist and Ulla a skillful storyteller with a talent for drawing—will these skills help or hinder them through the challenges brought about by war? They can't think of one another as enemies, even though that's what the world is telling them that they are.
Firefly by Philippa Dowding.
Dancing Cat Books, 2021. 978-1770865983
Firefly lived in the park across from her mother's home. It was safer there. But after the bad night happens, and her baseball-bat-wielding mother is taken away, social services sends Firefly to live with her Aunt Gayle. She hardly knows Gayle, but discovers that she owns a costume shop.
Yes, Firefly might be suffering from PTSD, but she can get used to taking baths, sleeping on a bed again, and wearing as many costumes as she can to school.
But where is "home"? What is "family"? Who is Firefly, for that matter … and which costume is the real one?
Guardians of Porthaven by Shane Arbuthnott.
Orca Book Publishers, 2021. 978-1459827042
On his fifteenth birthday, Malcolm Gravenhurst is preparing to take on the mantle of Guardian, like many Gravenhursts before him. The Guardians are tasked with defending the city of Porthaven, and his family is the only one to possess the superpowers necessary to battle the frequent alien invasions of robotic klek. But power has brought the Gravenhursts more than just responsibility―it has also brought them fame and wealth. When Malcolm meets some teens living and working in secret, he learns that underneath their heroic facade, the Gravenhurst family is hiding some very dark secrets. With the threat of annihilation on the horizon, soon Malcolm must choose between family loyalty and doing the right thing.
Lessons in Fusion by Primrose Madayag Knazan.
Yellow Dog, 2021. 978-1773370682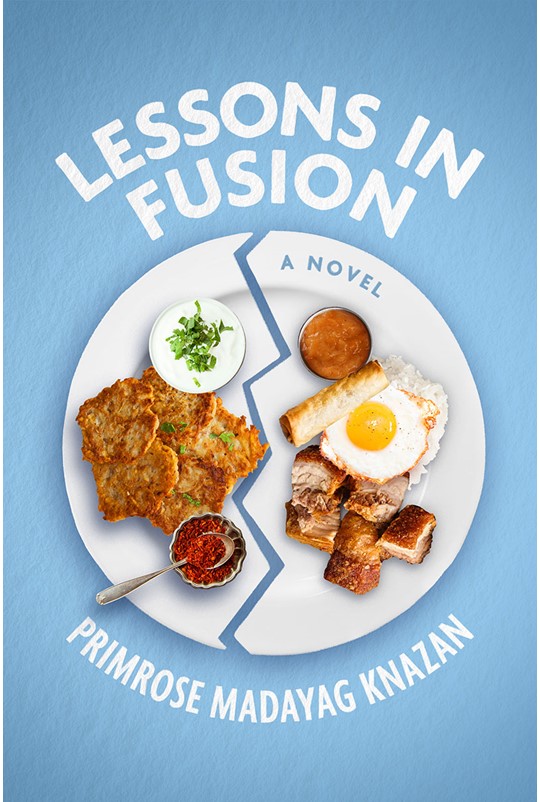 Sixteen-year-old Sarah (it's pronounced SAH-rah, thank you) has a successful blog creating fusion recipes. When Sarah is invited to compete on Cyber Chef, a virtual cooking competition that soars in popularity at the height of the pandemic, her twists on her Baba's recipes are not enough to pique the palate of the show's producers. She is pushed to present dishes that represent her Filipinx culture, but these flavours are foreign to her since her parents raised her emphatically Jewish. To survive Cyber Chef and find her cultural identity, Sarah must discover why her mother turned her back on all things Filipinx, and learn the true meaning of fusion.
Living with Viola by Rosena Fung.
Annick Press, 2021. 978-1773215495
Livy is already having trouble fitting in as the new girl at school—and then there's Viola. Viola is Livy's anxiety brought to life, a shadowy twin that only Livy can see or hear. Livy tries to push back against Viola's relentless judgement, but nothing seems to work until she strikes up new friendships at school. Livy hopes that Viola's days are numbered. But when tensions arise both at home and at school, Viola rears her head stronger than ever. Only when Livy learns how to ask for help and face her anxiety does she finally figure out living with Viola.
Second Chances by Harriet Zaidman.
Red Deer Pres, 2021. 978-0889956391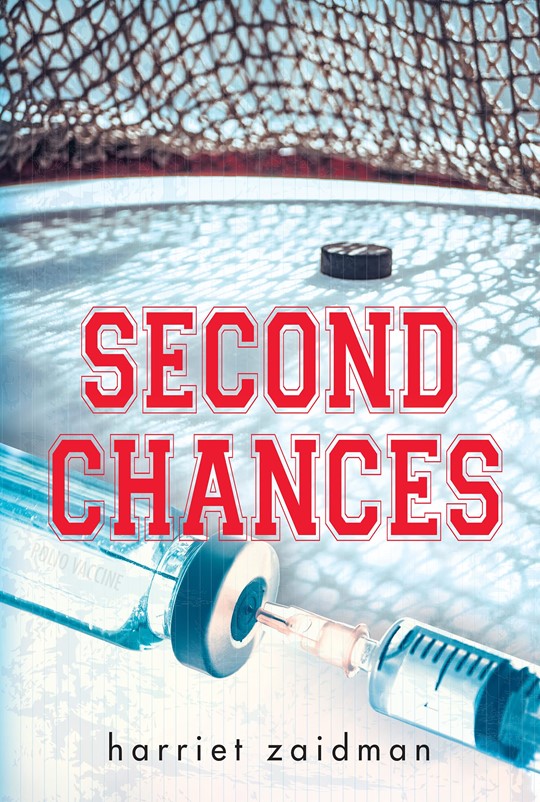 Thirteen-year-old Dale Melnyk finds himself stuck in an iron lung, desperately fighting for breath — and wishing he could die. It is the worst outbreak of polio in the history of Winnipeg, and Dale is one of the many young victims being treated in the early 1950s. Second Chances follows Dale's slow and often agonizing struggle to regain his life, first of all to breathe on his own and then to regain the use of his limbs. Will he ever be able to play hockey again, he wonders?
Tremendous Things by Susin Nielsen.
Penguin Teen, 2021. 978-0735271203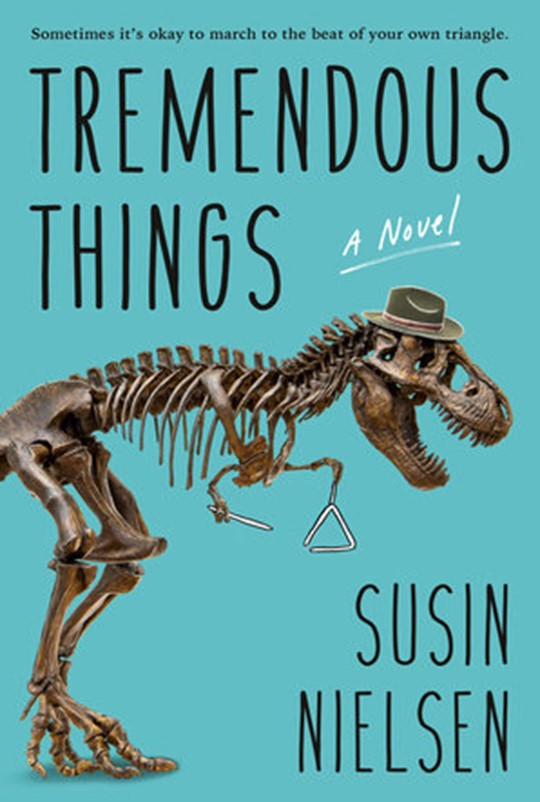 We all have moments that define us. For the comically clueless Wilbur, his moment happened on the first day of middle school, when someone shared his private letter with the entire student body. It revealed some of Wilbur's innermost embarrassing thoughts that no one else should ever know.
Now it's the start of ninth grade and Wilbur hasn't been able to escape that major humiliation. His good friend Alex stuck by him, but Alex doesn't have as much time since he started dating Fabrizio. Luckily, Wil can confide in his best friend: his elderly neighbor Sal. Also, Wil's in the school band, where he plays the triangle. They're doing an exchange program with students from Paris, and Wilbur's billet, Charlie, a tall, chic young woman who plays the ukulele and burps with abandon, captures his heart.