To share your views about a book, click on its cover.
2015 Winner:
Ultra by David Carroll Scholastic Canada, 2014. 9781443119184 Interest Level: Grades 5 & Up Quinn is engaged in the ultimate challenge with himself – running the brutal Shin-Kicker, a race that covers 100 miles in 24 hours.  He is determined not to DNF.  Vomit, bears, hallucinations – why would anyone want to do this to themselves? Some people run to get into shape, others are running away from something, Quinn is doing both.
2015 Honour Books:
Home Ice Advantage by Tom Earle Harper Collins, 2013.  9781443409049 Interest Level: Grades 5 and Up Life should be fun when you're a kid. For twelve-year-old hockey star Jake Dumont, the pressure from his dad to be the best is overwhelming. When his dad finally goes too far, Jake runs away to downtown Toronto's historic Maple Leaf Gardens. Jake soon finds living on the street is neither safe nor easy, and a mysterious homeless man has secrets for Jake to discover. Running out of money, Jake wonders if he will ever be able to go home and get back to playing the game he loves.
Loki's Wolves by K. L. Armstrong and M. A. Marr Little Brown, 2013.  9780316204972 Interest Level: Grades 5 and Up Meet Matt, Laurie and Fen. They're thirteen, on the run in South Dakota and descendants of the Norse gods Thor and Loki. Together with a group of misfit strangers all having magical, mythological strengths and weaknesses, they fight trolls, shape-shifting wolves, nightmare spirits of confusion and meet a band of Valkyrie warrior women. Can they change the fate of their lives and survive Ragnarok, the end of the world?
Nominees:
  The Cats of Tanglewood Forest by Charles De Lint. Little Brown, 2013.  9780316053570 Interest Level: Grades 5 and Up. Lillian, out searching for fairies in the woods, is bitten by a venomous snake and she feels her life beginning to slip away. Her friends, the cats of the forest decide to use their most powerful magic to return her to life by transforming her into a kitten. Unhappy in that form, she must convince the old Possum-Witch to transform her back into a girl. Will Lillian learn that she must accept the consequences of her choices?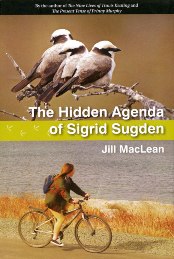 The Hidden Agenda of Sigrid Sugden by Jill MacLean Fitzhenry & Whiteside, 2013. 9781554552795 Interest Level: Grades 5 and Up Twelve-year-old Sigrid is finding out that stopping being a bully is much harder than starting.  Hanging out with the town bad girls, Tate and Mel, seemed to be her best option when her best friend moved away.  Their meanness was a good fit for the way Sigrid was feeling.  Now they have gone too far and Sigrid wants her life back but no one wants to  give a bully a second chance. In her quest to make things right she discovers that everyone has secrets and nothing is as simple as it seems.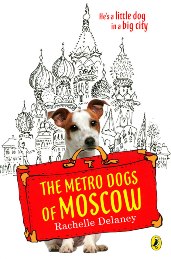 The Metro Dogs of Moscow by Rachelle Delaney Penguin Group, 2013.  9780143184140 Interest Level:  Grades 5 and Up JR is a Jack Russell terrier with a nose for adventure. When he and his globe-trotting owner George are posted to the embassy in Moscow, JR joins a group of stray dogs who give him the city tour. George is unaware of JR's friendships and unknowingly sets in motion a dog napping of huge proportion. Who is stealing the stray dogs? Cute, cunning, and criminal canines unite in this tale of a tail-wagging sleuth.
  Morven and the Horse Clan by Luanne Armstrong Grand Plains, 2013  .  9781926531748 Interest Level: Grades 5 and Up Morven was born into a clan of nomadic hunter/gatherers 4500 years ago. She differs from her fellow clanspeople in appearance, in preference of hunting over cooking or sewing, and in her choice of the company of animals, particularly horses, to that of humans. It takes some time for her to discover that she needs her people, and they in turn find that some of her ways are in fact good. Thus are lives changed, and books written.
  The Oathbreaker's Shadow by Amy McCulloch Doubleday Canada, 2013.  9780385678261 Interest Level: Grades 5 and Up In Darham, promises mean everything; once you make a promise, you are bound by it. Breaking a promise will leave a scar and turn you into an outcast. Raim, a fifteen-year-old training to become a member of the elite Yun guard, has worn a promise around his wrist for his entire life, but he has no idea what that promise is. Raim sets off on a quest to uncover the promise: will he succeed?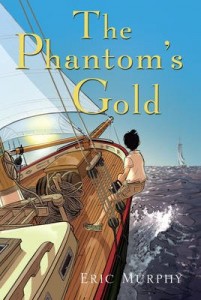 The Phantom's Gold by Eric Murphy Dancing Cat Books, 2013.  9781770862661 Interest Level:  Grades 5 and Up With his father gone and his mother's focus on a would-be suitor, thirteen-year-old William decides to find a new home with his father's family in Nova Scotia. An encounter with the ghost of his infamous ancestor Bill "the Real" McCoy spurs Will on to do what he can to secure his family's legacy and tradition even if it means facing his fear of water and searching for a potentially non-existent stash of gold.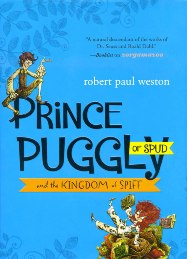 Prince Puggly of Spud and the Kingdom of Spiff by Robert Paul Weston Puffin,  2013.  9780143173328 Interest Level: Grades 5 and Up   Princess Francesca likes to settle in nooks, in her pajamas, to read all her books. But the Kingdom of Spiff will not let it slide, there are rules of fashion by which to abide. Then she meets Puggly, the crown Prince of Spud, who wears paisleys with plaids: he is clearly a dud. This story's moral, as you may have guessed…there's more to a person than how they are dressed.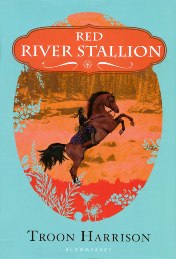 Red River Stallion by Troon Harrison Bloomsbury Children's Books, 2013.  9781599908458 Interest Level: Grades 5 and Up When a young orphan named Amelia first sees a red stallion she is sure he is her spirit guide, but learns the beautiful horse has come to York Factory by ship on its way to the Red River Settlement.  Amelia must decide whether to stay with her mother's tribe or accompany the stallion on his journey, in the hope that the father she has longed to meet might be found at their destination.
   Running Scared by Beverley Terrell-Deutsch Red Deer Press, 2013. 9780889955035 Interest Level: Grades 5 & Up Eleven-year-old Gregory cannot go near the road where his Dad died in a car accident.  When it is announced that his school will be closing and everyone will have to go by bus to a new school, he panics – the bus stop is right where the accident happened.  With help from his friends, he bravely overcomes his fears.
   Sabotage by Karen Autio Sono Nis Press, 2013.  9781550392081 Interest Level: Grades 5 and Up While their citizens fight on the battlefields overseas, residents of Port Arthur feel effects of the war at home, particularly the fear of the enemy.  Saara Maki discovers that simply having a Finnish name turns people against her and that her friendship with a German girl makes her a possible spy.   Newspaper reports inflame the community's suspicion of immigrants with stories of sabotage and espionage.  Despite being only nine-and-two-thirds-old, newsboy John Maki's passion for journalism fuels his desire to get at the facts behind the headlines, putting him in a precarious situation.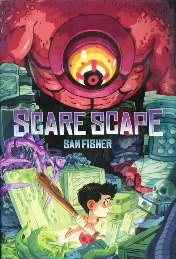 Scare Scape by Sam Fisher Scholastic Press, 2013. 9780545521604 Interest Level: Grades 5 and Up Being the youngest is never easy, but with his mother gone and his brother James and sister Melissa fighting all the time, twelve-year-old Morton's only escape is through the creepy stories in his beloved Scare Scape comics. When dad moves the family to a house that seems oddly similar to the comics Morton loves, it seems like a wish come true! But as things go from strange to scary, Morgan, James and Melissa quickly find out that they really should be careful what they wish for – VERY CAREFUL!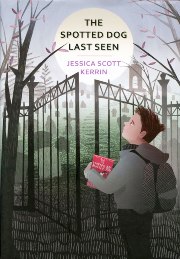 The Spotted Dog Last Seen by Jessica Scott Kerrin Groundwood Books, 2013.  9781554984015 Interest Level: Grades 5 & Up When sixth grade students at Queensview Elementary are assigned community service projects, Derek Knowles-Collier is not keen on his placement. Cemetery duty is NOT his idea of a fun time. Plagued with nightmares from when he was young, Derek worries that being at the cemetery will be too difficult. Together with his group, Derek comes across secret codes and a mystery to be solved that finally brings him some peace.
  The Unlikely Hero of Room 13B by Teresa Toten Doubleday, 2013.  9780385678346 Interest Level:  Grades 7 and Up Fifteen-year-old Adam knows he is no super-hero. Still, his must try to solve the mystery of his mother's threatening letters, his little brother's anxiety, and, if he can get himself under control, maybe win the girl. For Robin, he will try to be Batman. A funny, awkward tale about a boy, a girl, and mental illness.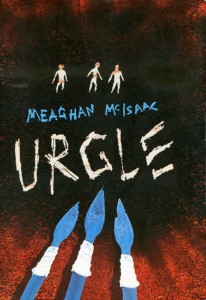 Urgle – by Meaghan McIsaac Dancing Cat Books, 2013.  9781770863088 Interest Level: Grades 7 & Up Urgle is almost old enough for his Leaving Day – the day when he moves away from the other boys abandoned at birth in the Ikkuma Pit, but he isn't ready.  He's been nicknamed Useless, and he hasn't taught his little brother Cubby much of anything about survival. When Cubby is carried away by the ferocious Tunrar, Urgle and his brothers must leave the Pit early and risk their lives to find him in an unfamiliar, confusing and dangerous world.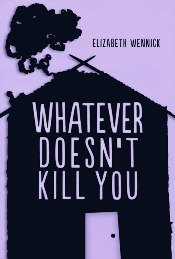 Whatever Doesn't Kill You by Elizabeth Wennick Orca, 2013.  9781459800830 Interest Level:  Grades 7 and Up Life has not been easy for fifteen-year-old Jenna Cooper.  Her father was murdered when she was just a baby, her mother is sick, and she must help her brother keep the remaining family together.  When she finds out her father's killer is getting out of jail she sees her chance to confront the person who destroyed her family.  But will Jenna find closure or just more questions?