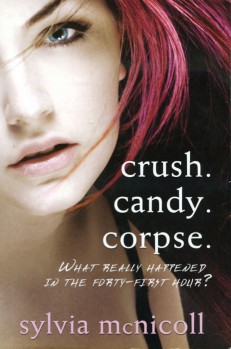 Crush. Candy. Corpse. by Sylvia Mcnicoll
Lorimer, 2012. 9781459400627.
Interest level: Grades 7 and up.
Sunny is a high school student who has to complete 40 hours Community Service in order to graduate. She is assigned to a residence for Alzheimer's patients, and quickly develops a crush on a fellow volunteer. The novel opens with Sunny on trial for manslaughter because a resident has chocked to death on a hard candy. The story flips back and forth between the trial and Sunny's journal of her experiences.