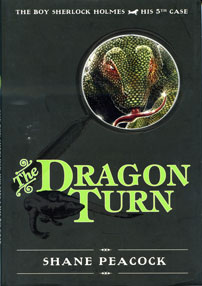 The Dragon Turn by Shane Peacock
Tundra Books, 2011 9781770492318
Interest Level: Grades 5 and Up
In his fifth case, the boy Sherlock Holmes gets caught up in the world of magic and mystery as he tries to prove that the magician, Alistair Hemsworth, is innocent of the apparent murder of his rival the Wizard of Nottingham. Sherlock must discover the truth of what is real and what is merely an illusion. Is seeing always believing?