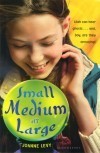 Small Medium at Large by Joanne Levy
Penguin Canada, 2012. 97859908366.
Interest level: Grades 5 and up.
When a freak accident leaves 12 year old Lilah with the ability to talk to ghosts, her already complicated life becomes even more difficult. Can Lilah find a way to deal with her new abilities while sorting out school bullies, her crush on Andrew and finding a new girlfriend for her dad?