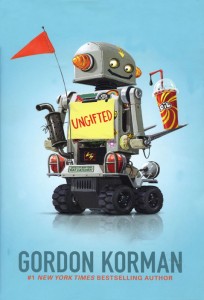 Ungifted by Gordon Korman
Scholastic Canada, 2012. 9781443119207.
Interest level: Grades 5 and up.
Donovan Curtis is definitely not gifted. So how did he end up at the Academy of Scholastic Distinction surrounded by gifted kids who do math for fun? After pulling a prank that should have gotten him into major trouble, Donovan needs to hide out where no one would ever think to look for him. It will take dodging a grumpy dog, fooling suspicious teachers and building a fighting robot to help Donovan discover some new friends in the most unlikely of places.