2013 MYRCA WINNER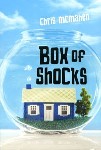 Box of Shocks by Chris McMahen
Orca, 2011, 9781554699179
Interest Level: Grades 5 and Up
Keeping secrets from his parents is something that Oliver is used to. If his overprotective "helicopter" parents knew about his crazy encounters with zombies, vicious dogs or jumping off a bridge, they would have a fit. Oliver keeps all of the souvenirs from his adventures in his box of shocks. When a new neighbour boy moves in across the street and into Oliver's old house, Oliver may meet someone hiding an even bigger secret than his.
2013 MYRCA Honour Books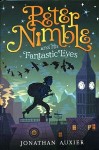 Peter Nimble and His Fantastic Eyes by Jonathan Auxier
Penguin, 2011, 9780143175933
Interest level: Grades 5 and Up
Blind, orphaned, and only 10-years-old, Peter Nimble must steal to survive. His future looks bleak when he is tricked into servitude by a cruel taskmaster. That is, until he finds himself drawn to a mysterious box.  Using his considerable talents, Peter manages to steal and unlock the box, revealing 3 pairs of magical eyes. With the help of a brave but unusual knight, Peter and his fantastic eyes set off on a quest to find his destiny.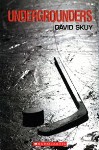 Undergrounders by David Skuy
Scholastic, 2011, 9781443107280
Interest Level: Grades 5 and Up
Life on the streets is rough for 12-year-old Jonathan. Hawking and stealing have become his means of survival and a group of misfits called Undergrounders his only family. But when a chance occurrence allows him to steal some hockey equipment, a new world opens up to him. Soon things begin to unravel as he tries desperately to keep his secret. Will Jonathan find the courage to ask for the help he needs and possibly find a new home?
2013 MYRCA Nominees
Against All Odds by Natale Ghent
HarperCollins, 2011, 9781443406253
Interest Level: Grades 5 and Up
Itchy, Boney and Squeak are all 12-years-old and members of the Odd Fellows Club. Things start to get strange for the club when Itchy begins stealing food from every household in town. As the Odd Fellows struggle to find out how Itchy is able to get to so many houses so quickly, they are helped by a new, super-smart kid named Sam. Together, they battle clones, aliens and really bad smells to clear their friend's name and save their town!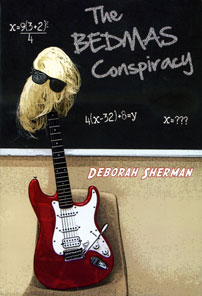 The Bedmas Conspiracy by Deborah Sherman
Fitzhenry & Whiteside, 2011, 9781554551811
Interest Level: Grades 5 and Up
11 year-old Adam should be focusing on his grades, but it's hard when you are trying to form the greatest band ever to compete in the school talent show. When an unfortunate incident with his archenemy, Eldrick, gets him accused of cheating, his parents give Adam an ultimatum – bring up his grades or no band. Will Adam be able to focus on school, deal with Eldrick, and win the contest?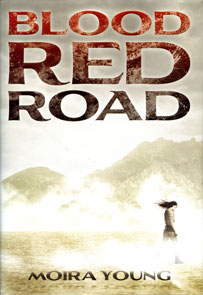 Blood Red Road by Moira Young
Random House, 2011, 9780385671859
Interest Level: Grades 7 and Up
18 year-old Saba lives in a bleak world at the edge of a deserted wasteland. After witnessing her father's death and the kidnapping of her twin brother, Lugh, Saba vows to find him and exact revenge on her family's enemies. Nero, her pet crow, is the only companion she wants, even though little sister Emmi insists on coming along.  What Saba doesn't know is that she is going to need all the help she can get on her terrifying journey.
The Case of the Missing Deed by Ellen Schwartz
Tundra, 2011, 9780887769597
Interest Level: Grades 5 and Up
Five young cousins join forces to help their grandmother discover where their eccentric grandfather hid the deed to the family cottage. Favourite family recipes hold the clues Gramps left behind. A major developer wants Grandma's property for its own sinister reasons and time is running out for the cousins to solve the mystery. Can the "teacup detectives" work together to unlock the recipes' secrets to save the family property?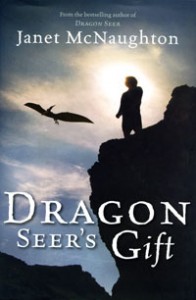 Dragon Seer's Gift by Janet McNaughton
HarperCollins, 2011, 9781443406789
Interest Level: Grades 5 and Up
Researching a Scottish ancestor for a Heritage Fair project, 12-year-old Gwyn and his 14-year-old sister, Maddie, find more than just a curious journal and an heirloom cast-iron key; they awaken an intelligent, centuries-old flying dragon. Past and present blur as school bullies, an archaeological discovery at L'anse aux Meadows, Newfoundland, and an ancient Viking curse change the way science and magic affect both humans and animals.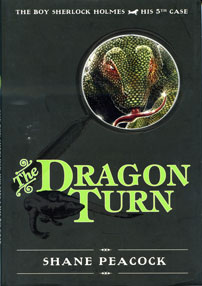 The Dragon Turn by Shane Peacock
Tundra Books, 2011 9781770492318
Interest Level: Grades 5 and Up
In his fifth case, the boy Sherlock Holmes gets caught up in the world of magic and mystery as he tries to prove that the magician, Alistair Hemsworth, is innocent of the apparent murder of his rival the Wizard of Nottingham. Sherlock must discover the truth of what is real and what is merely an illusion. Is seeing always believing?
Encore Edie by Annabel Lyon
Penguin, 2011, 9780143177418
Interest Level: Grades 5 and Up
This poignant, funny sequel follows 13-year-old Edie through her first year of high school. Whether she is walking her beloved but embarrassing cousin with Down Syndrome home from school, or joining the school musical to improve her social life (only to become its Director), Edie has a knack for turning every day into an adventure!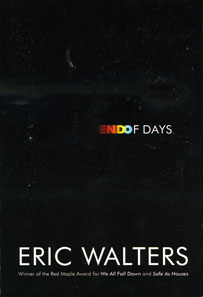 End of Days by Eric Walters
Random House, 2011, 9780385670067
Interest Level: Grades 7 and Up
How would people behave if all the systems that keep us civilized fell apart? Would some emerge as leaders? 16-year-old Billy is a leader. In normal times he might be school president. But these aren't normal times; the world's top scientists and mathematicians have disappeared, and Billy is recruited to lead in a very different way. As the world as we know it comes to an end, Billy gets caught up with two organizations with very different goals.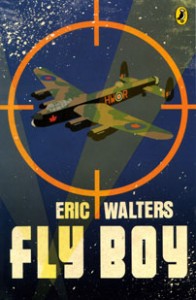 Fly Boy by Eric Walters
Penguin, 2011, 9780143176312
Interest Level: Grades 5 and Up
It is 1943 and 17-year-old Robbie McWilliams devises a plan to enlist early so he can serve his country as a Spitfire pilot, just like his Dad. Although he excels in his flight training, Robbie's plans are thwarted when the Royal Canadian Air Force decides to train him instead as a navigator. With the risk of being found out and the threat of being shot down over enemy territory, will Robbie ever get to fulfill his dream?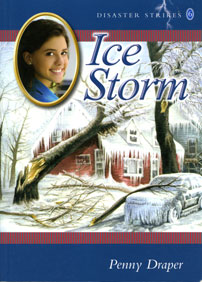 Ice Storm by Penny Draper
Coteau, 2011, 9781550504514
Interest level: Grades 5 and Up
12-year-old best friends Alice and Sophie may be cousins, but they are very different girls. Alice is an only child whose life revolves around her figure skating career in the city of Montreal. Sophie loves her dairy farm in the country – even though she has to put up with her weird brother. The 1998 ice storm that leaves Quebec shivering in darkness changes everything; are they strong enough and smart enough to survive?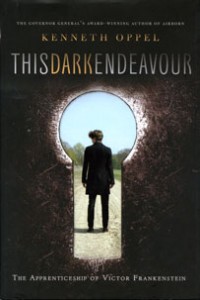 This Dark Endeavour by Kenneth Oppel
HarperCollins, 2011, 9781554683406
Interest level: Grades 7 and Up
16-year-old twins, Victor and Konrad Frankenstein, are fiercely competitive and equally as loyal. When Konrad falls ill it is up to Victor, their beautiful cousin Elizabeth, and loyal friend Henry to unlock the mysteries of the Dark Library and find the ingredients for the Elixir of Life. On their quest they face unbelievable dangers, but Victor finds that the most dangerous thing may be himself.
The Tiffin by Mahtab Narsimhan
Dancing Cat, 2011, 9781770860391
Interest level: Grades 6 and Up
12-year-old Kunal is anxious to escape his cruel adopted father Seth and the restaurant where he slaves for pittances. Learning the details of his identity, Kunal embarks on a search for his birth mother. Using connections with the dabbawallas, a group of deliverymen who bring lunch tiffins to workers all over Bombay, he arranges to leave a note in one. Kunal is not sure if the tiffin will work – will he succeed?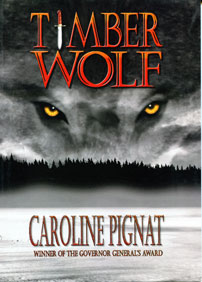 Timber Wolf by Caroline Pignat
Fitzhenry & Whiteside, 2011, 9780889954595
Interest Level: Grades 5 and Up
This third book about the Byrne family begins with Jack lying on the forest floor injured and not knowing who he is. A young wolf appears and guards him. Later he meets an aboriginal family who help him heal and direct him back to civilization.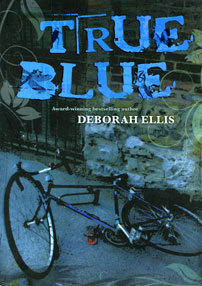 True Blue by Deborah Ellis
Pajama Press, 2011, 9780986949500
Interest Level: Grades 7 and Up
Casey is a dedicated camp counselor and brilliant science student who has a scholarship in entomology. Her best friend, Jess, also a camp counselor, gets caught up in the drama that ensues when Casey is arrested for the murder of a camper under their care. Jess struggles to find the courage to be loyal to Casey despite the circumstances.
Witchlanders by Lena Coakley
Simon & Schuster, 2011, 9781442420052
Interest Level: Grades 7 and Up
In the Witchlands, Ryder is haunted by strange melodies and tired of worrying about  his mother's feverish warnings about an assassin in the mountains. In Baen, Falpian worries about letting down his father who has sent him on a secret mission. Will the connection between these events explain why the boys are dreaming each others dreams?